As a part of the World Bank's Access to Information Policy (AI Policy), the Archives' Digitization Program provides increased access to records in the custody of the World Bank Group Archives. The objective of the program is to increase access to the Archives' analog holdings for researchers regardless of location and to further the World Bank Group's goals to eliminate poverty and increase shared prosperity by encouraging others to learn from the World Bank's history through its archival holdings.
With more than 200,000 linear feet of records in all formats and media including textual, cartographic, audio, moving and still images, the Archives' holdings are too vast to digitize in their entirety. Digitizing of archival materials is not a simple bulk scan of documents. Rather, archivists at the World Bank preserve and make accessible the organization's documentary heritage using the WB Access to Information Policy, international descriptive standards, state of the art open source software for information discovery, and special digitization processes that safeguard fragile and irreplaceable archival material.
How do you decide what to digitize?
Our digitization selection criteria are limited to records which have been subject to a public access request and have been declassified in accordance with the AI Policy and those key collections which have been identified for proactive disclosure. Once digitized, records are made available on the World Bank Group Archives Catalog, the Projects and Operations and the Photo Catalog sites.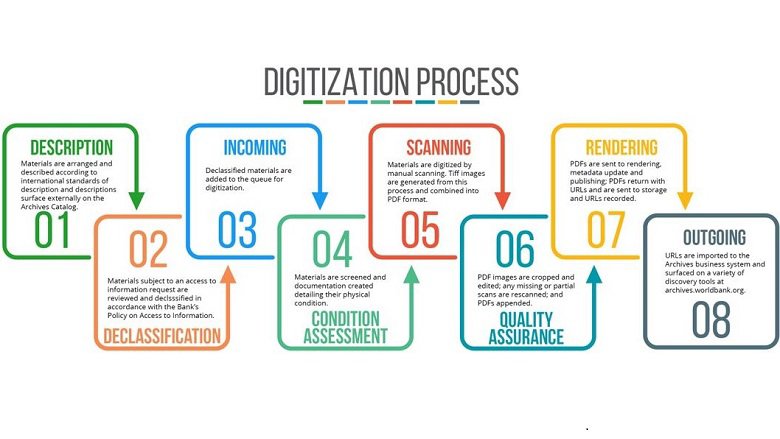 What are the steps involved in digitization for public access?
Digitization of archives is complex due to the nature of the historical material; the resulting files also need to be processed to make them machine readable and relevant for on-line discovery tools. Once records are declassified, it can take between 6-8 weeks for the records to be digitized and the files to surface on the external site.
In what format are the digitized records available?
Digitized archival records are available as PDFs, with each folder of archival records corresponding with a single PDF. This ensures that all records within a single folder are kept together in their original order. The first page of every PDF consists of a standard cover sheet that contains archival description information, basic citation format information, and a link to the Terms of Use.
Where can I access digitized records?
Digitized archival records are available on the following sites:
The Archives Catalog: First, conduct a keyword or advanced search in the Catalog, and The search results page will indicate how many results contain digital objects. By selecting "Show results with digital objects", your search will be limited to those containing digital objects. Alternatively, digitized records are accessible through the inventory list feature in series-level descriptions. Folders that have been digitized will be hyperlinked.
Projects and Operations: In addition to information about every World Bank project, a list of archival record folders is provided on the Archival Records tab of each project. Folders that have been digitized will be hyperlinked.
Photo Catalog: This site provides access to thousands of photos relating to World Bank operations, presidents, official signings, and more. Newly digitized photos and negatives are added to the site regularly.
Are any of the archival records withheld or redacted?
Archival records identified for digitization have been reviewed against the World Bank's Access to Information Policy. During review, records which may not be disclosed are replaced by a removal notice indicating the Access to Information Policy reason why records are withheld. Removal notices are then digitized and included in the PDFs posted online. On rare occasions, the images of the archival folders will include small gray redacted areas. This is done to obscure administrative labels which include personal information related to prior researcher access.